MPG Driving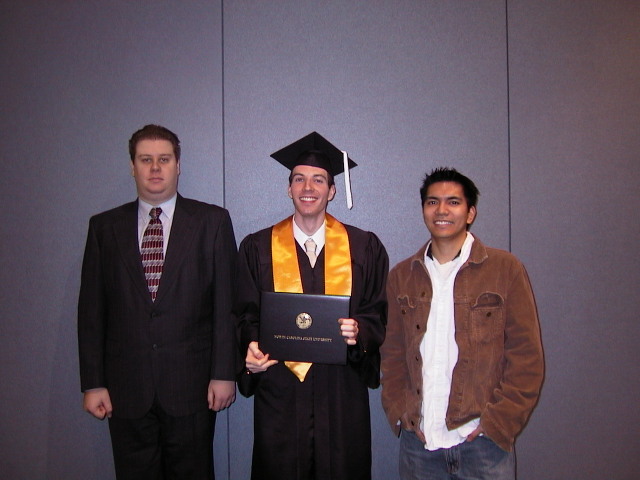 Graduation comes once again on May 10.
MPG Driving
Well, since gas prices are insane, I've been working on getting as high a Miles-per-Gallon reading as possible. Here are a few obvious tips in conserving gas --
- Don't be heavy on the accelerator. If your car jerks when you take off, you're probably wasting gas.
- Know your most efficient MPH -- my minivan is most efficient around 60, and 55 is generally not far off.
- Use cruise control if there are flat stretches of land. I've had a lot lower MPG from hills in using cruise control, though. It seems to really push the gas to maintain the MPH on hills.
- Close the windows. More wind resistance = more energy required to keep the car going. It's much less aerodynamic to have your windows open.
- Turn off the A/C or Heat. This made about a 0.3 MPG difference on my minivan.
- Stay consistent with your speed if possible. At stoplights, try to glide into it so you don't have to jam on the breaks and then wail on the accelerator.
However:
- Use the accelerator if you need to. Don't get into an accident because you're trying to increase fuel efficiency (obviously).
- You don't have to be an ascetic driver. I mean, why not enjoy the wind on a nice day?
The End!
lol that was lame.
Here's a link to a Bag AAA video
. I also got Legend of Max AAAed today, praise the Lord. That gives me 511 AAAs on Single Expert/Challenge at the Arcade.
Sermon on Sunday. I have it done, text is Romans 8:1-11. Yesterday was sweet. I'm putting together a slide show to go with it tomorrow at the church office. I'll miss this church a lot.
The End!