Pulse Outreach - Day One Performance
Day One Performance



Monday Night
Day One of Pulse was really great. We went to Valley City State University in North Dakota, and we performed in their auditorium. We had about 60-70 people out, not including us, and the approximate order of the show was as follows --
7:00 - Sonstruck (Worship set)
7:30 - Testimony (Someone's story about Jesus in their life)
7:40 - More Sonstruck
8:00 - Nick Hall gave an evangelistic message/challenge, video follows
8:35 - DJ Sterf tears up the stage floor on his dance mat
8:50 - Hybrid Soul (Their own songs/concert, mainly)
Hybrid Soul and Sonstruck switch out daily as to who does worship and who performs their own set, however, both (mostly Sonstruck) mainly consist of worship anyway.
It's been great to tour with the guys from Hybrid Soul and Sonstruck, as well as the Pulse Outreach team. We all jump in a 15-passenger van loaded with all our stuff, with a trailer hitched to the back, and we cram in and drive across North Dakota.
I'm still wrestling with my set, though here are some good things --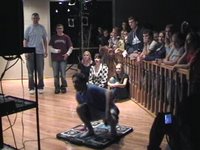 (1) People want to see me play, so they stay until they do, however, I wish more would stay for the whole Pulse event (instead of leaving at around 9). Most do stay, though, because it's a good show!
(2) I get to play and then speak about something encouraging/challenging from Scripture. My heart is really for preaching, so in the opportunities I get, I want to preach at least something solid.
(3) I have gotten to lead a few devotionals, and people have been very encouraged/energized by the Holy Spirit through those. Acts 3:6, 4:18-20, and 24-32a are SWEET.
I may as well give this some serious effort while I still have strong knees to play, so I'll be thinking and praying about that. I'm The Dancing Preacher of sorts, though my heart is weighted so much toward the Preaching that I'm really just The Preacher.
I will update this slowly but surely as I get back. I'm currently in a hotel with decent internet (though it shuts itself off every hour or so, so I can't transfer anything massive).
I'll update more on the bands, the people, and the rest of the tour performances later. They've all been excellent, high-production, super high-energy, and the like. However, most importantly, the Lord is bringing a lot of increase to His Kingdom in people turning to the Lord as well as returning to the Lord.
More updates as I can get them done!
1 Corinthians 3:4-8 [ESV]
4 For when one says, "I follow Paul," and another, "I follow Apollos," are you not being merely human?
5 What then is Apollos? What is Paul? Servants through whom you believed, as the Lord assigned to each.
6 I planted, Apollos watered, but God gave the growth.
7 So neither he who plants nor he who waters is anything, but only God who gives the growth.
8 He who plants and he who waters are one, and each will receive his wages according to his labor.