Evange-lost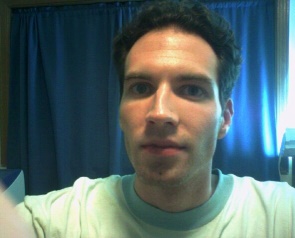 Hey, all. I would say hey, y'all, but I was born in New Jersey, so I can't be totally North Carolina in my blog.
I'm passionate about evangelism in various forms, including 'Street Evangelism,' and yet Street Evangelism is such a lost art in today's Relational Evangelism mentality.
A Few Definitions:
Street Evangelism
- Going out on the streets or in random areas and just telling people about Jesus, asking them about their religious background, etc. Essentially, sharing the Gospel with people you may or may not know. This is a more confrontational style.
Relational Evangelism
- Sharing the Gospel with people you know closely, packaged in a relationship. This is supposedly easy to do, but does it actually happen? It can.
Event Evangelism
- Having a show or performance with a message in it or in conjunction with it. That's what I do with DDR and Pulse Outreach and such, for example.
Anyway, I love all methods of evangelism, but I see Street Evangelism as 'less trendy' nowadays, and so I wrote an article about it. Let me know your thoughts on it all.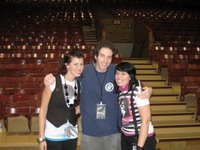 Also please pray for the tour and that many people would come to know the Lord and that many people would be strengthened in their relationship with the Lord through the events! The picture on the left is me (with my backstage pass goofily on) and the ladies from Superchic[k]. I have pictures with Sanctus Real as well, but I really wanted pictures with Grits (I love Rap/R&B), though they left before I could get pictures with them.
So without much further ado (about nothing), here's my article from
The Graduate Scrawl (Vol. 3, Issue 3: October 5, 2007)
....
Why Not 'Street?' – A Brief Defense of Street Evangelism
This summer, I bought the Left Behind: Eternal Forces video game for my PC. It was the worst game ever. As I played the game with my mouth wide open at the sheer horror of its gameplay, I moved my character around wondering how such an evil could exist on earth! Interestingly and seriously though, I found something endearing to my character – despite the fact that he could randomly throw punches or be swayed by the twanging of the guitars of rock musicians on the street, he was street evangelizing. He was boldly proclaiming Jesus on the streets, actively going and telling the world that Jesus is our only hope!
Theological issues aside, I admire that character's gusto, and it must be obvious by now that street evangelism is near and dear to me. God used several occasions of street evangelism in my late teens to make me passionate about Scripture, general outreach, and ministry. However, over the last few years, I have seen a major trend dynamic: the glorification of Relational evangelism and the abandonment of Street evangelism.
Does God work through relationships? Of course. However, the relationships themselves are not the means by which people are spiritually regenerated. In every evangelistic setting, true inward change in others only comes when God's beautiful plan as expressed in Scripture is proclaimed. I tend to take a Nike approach to evangelism: "Just do it." Regardless of method, God can use the most lucid as well as the most awkward presentation of Truth to convert a soul from death. Having seen various methods work powerfully, the least common denominator is definitely Scripture.
The Word of God is absolutely amazing! Faith comes by hearing the Word of God (Romans 10:17). It is what we are to proclaim. We are not to be ashamed of the Gospel, as it is "the power of Salvation to those who believe" (Romans 1:16). Thus, we need to know the Word of God thoroughly so that we will not be ashamed workmen (2 Timothy 2:15)! Scripture is quick and powerful, and it cuts us to our sinful core, and even a single drop of Scriptural exposure will work mightily (Hebrews 4:12, cf. Isaiah 55:10-11). God has truly given us a powerful way to evangelize – proclamation of His own Word!
So why has street evangelism seemingly been swept to the edges of the church sanctuary? As long as it is truly Scripturally-centered, any evangelistic method should not be ignored as a viable option of witness. One of the delights over the last few semesters for me here at Trinity has been the unofficial evangelism group (the working title is now 'Go Fish,' after Matthew 4:19). We meet on Fridays and/or Saturdays, pray, read some Scripture, go over some tracts, and then launch out as lights into darkness. It is always a wonderful experience, as we meet those who are spiritually needy for Jesus and tell them the good news of Salvation.
Whether we plant, water, or reap in a certain week, the results have always been encouraging. Obviously, the main goals are to present the Gospel message to a dying world and to be faithful in proclaiming Jesus as Lord. Some weeks, we see several people come to accept the Lord. Other weeks, zero. Each week, though, Scripture is proclaimed, and lives are changed, whether dramatically or bit-by-bit. Of course, follow-up and discipleship are big needs in the context of street evangelism, but seriously speaking, maybe someone you witness to may not have another tomorrow. Could it be that leaving people without the Gospel is the worst form of hatred that Christians can exhibit?
So why is there such aversion to street evangelism nowadays? Street evangelism has a very solid function in bringing the light of the Gospel to people right where they are. Street evangelism is an amazing way to share the Love of Christ. Regardless of evangelistic methodology, people need to hear about Jesus as soon as possible, and oftentimes people even in America have yet to hear the Gospel explained in full. So why not Street Evangelism? Let's not leave behind a method of sharing God's grace that has the capacity to bear serious fruit for the Lord's Kingdom!

Sterling Franklin is a third year M.Div student, and is a leader in a weekly evangelism group. His name also receives more hits on Google than most TEDS faculty.
(Special thanks to Jeremy Otten and David Ro for their editing of the Graduate Scrawl)