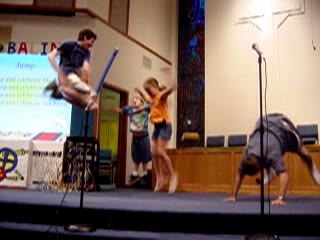 Finally, we concluded with the

Closing Rally

. We had a great week, and hopefully the kids took at least

something

from it. Hopefully something more monumental than 'Games are fun.' Hopefully it was 'God is Great' or something similar!

Just as I told the kids...if you had a summer trip that you really would have had a fun time on, and you ended up driving to the wrong state, you'd only end up frustrated and sad, not to mention out of a good time. God's plan for your life is the trip He wants you to take, but if you end up going your own way without seeking Him, you'll only get lost in an unfulfilling life role. The earlier you realize this, the better off you'll be. Thankfully,

God is a God of second, third, and infinitieth chances

, so if you're not on the Lord's path, get on it! Start reaching true happiness through Jesus Christ. It works!

So Vacation Bible School was pretty cool this year. I'll remember taking two courses with heavy projects due the same week, taking naps wherever possible to recover from 3-hour-a-night slumbers, and still staying patient with the kids even when they were crazy! A lot of my kids were just angels, and I hope and pray that they all grow up to be godly men and women,

even if I should have won the jumping contest!